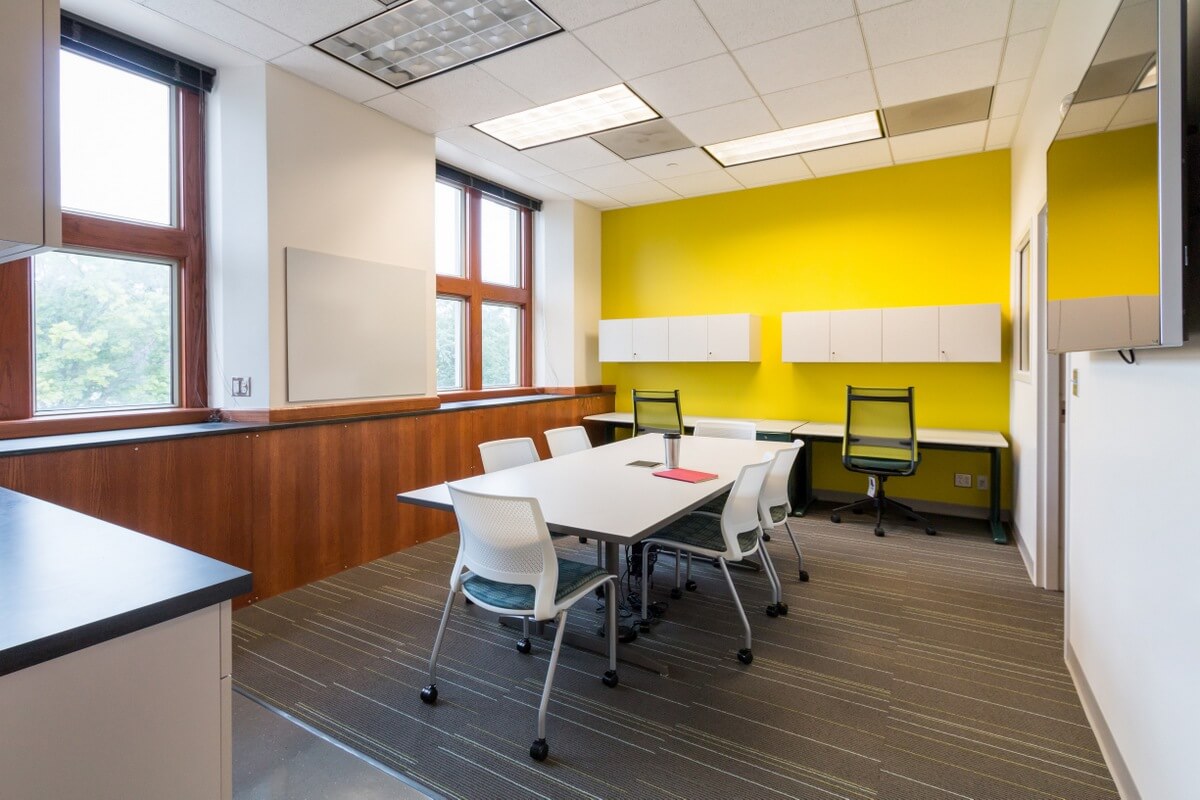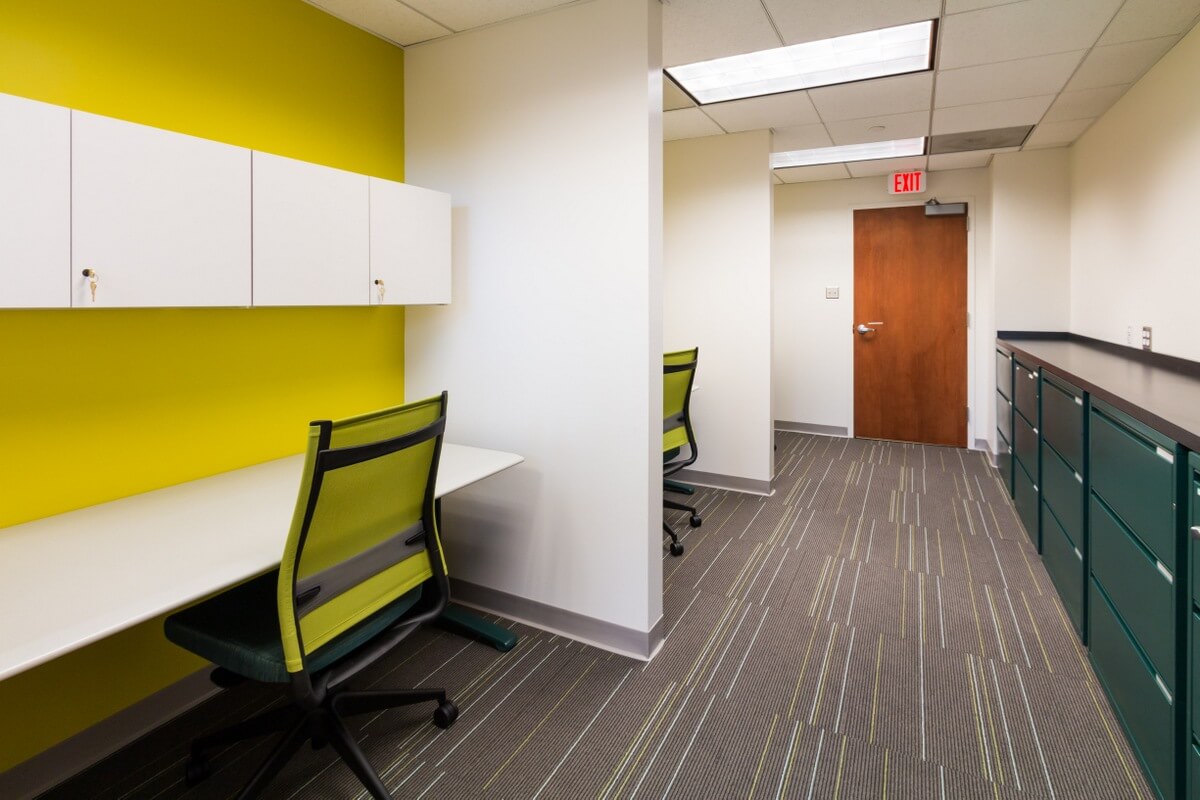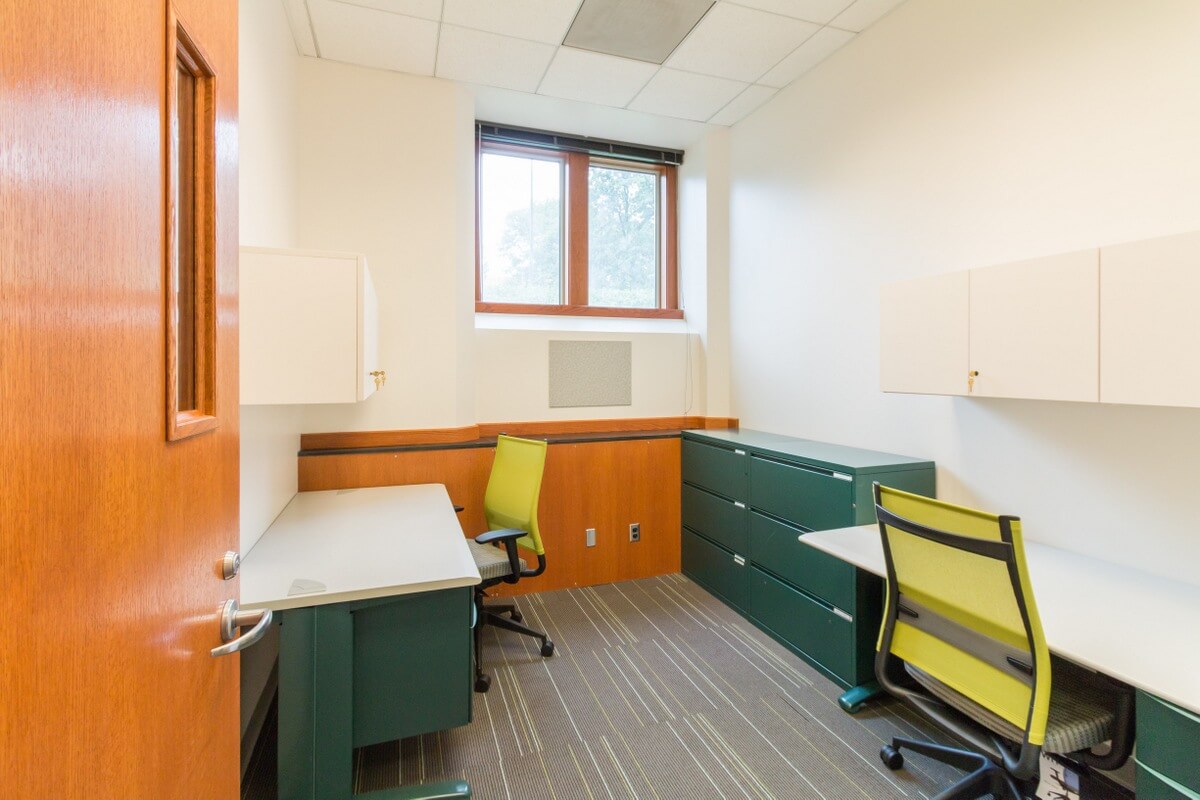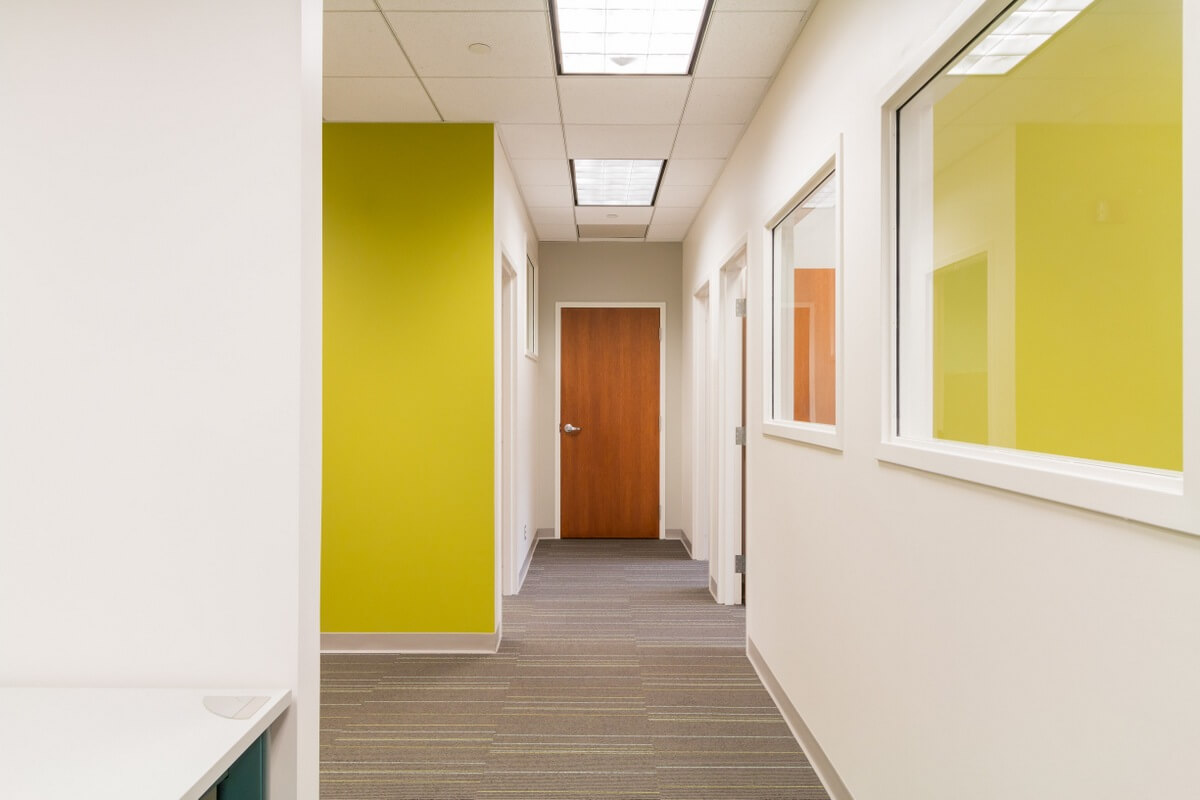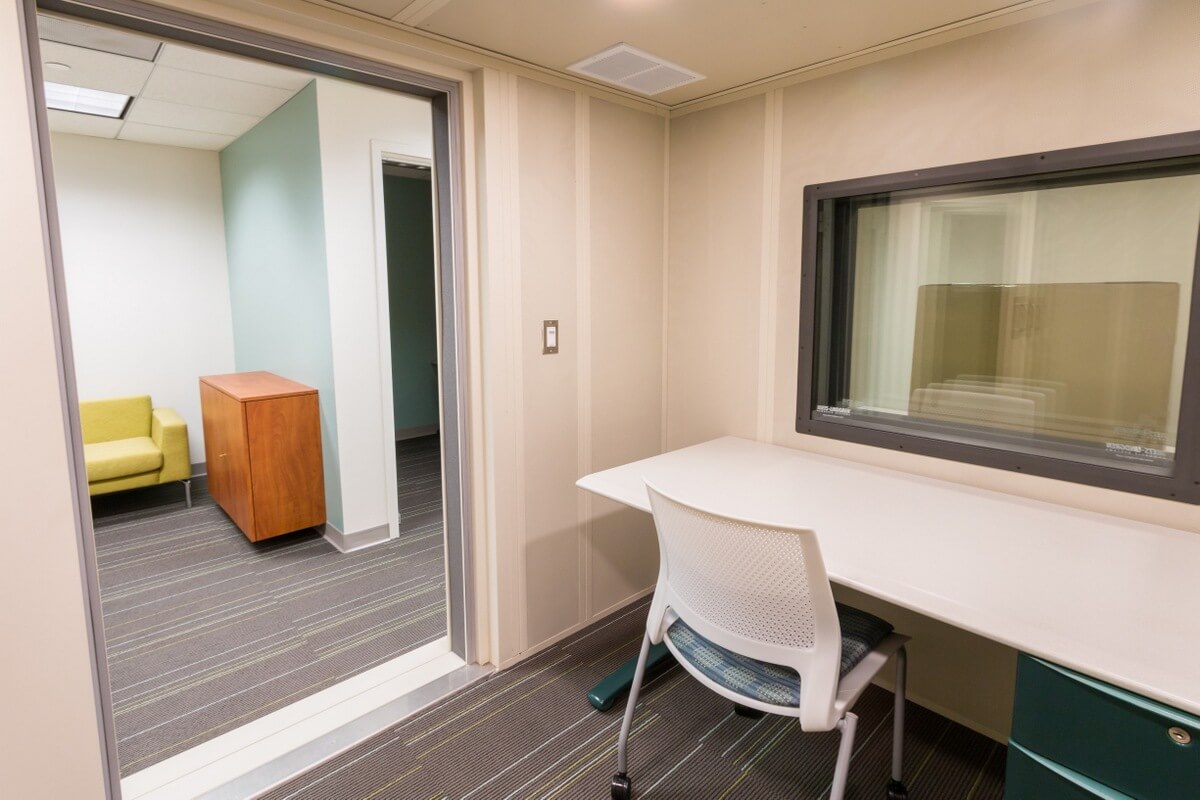 V Three Studios recently wrapped up several projects for Washington University in St. Louis that showcase the firm's expertise in providing technically-driven solutions that meet programmatic requirements and engage users through great design.
The Athletics Complex Level B Renovation
V Three Studios planned and designed the renovation of more than 6,000-square-feet of backfill space beneath the Athletics Complex Field House upper-level seating terrace. The project converted an existing sports training facility located in a long, narrow "bowling alley" space into a cluster of new private offices for men's and women's varsity coaches, an athlete recruiting lounge, and a new concession stand. Additionally, an existing Green Room used by the Athletics Department for staff and team meetings and review of game film benefited from a complete rehab and A/V upgrade.
Since Washington University is subject to the provisions of Title IX federal regulations that prohibit gender discrimination in educational programs and activities, many of the project's programming parameters were shaped by the need to provide gender-equal accommodations. V Three designed comparable facilities for the men's and women's varsity basketball coaches, the varsity women's golf coach, and the varsity women's volleyball head and assistant coaches. The athlete recruiting lounge was designed to provide a welcoming environment for prospective student athletes and their families that touts Washington University's legacy of success. The concession stand, which pairs nicely with V Three's food service experience, is a considerable improvement over the previous, thirty-year old space.
Psychology Building Research Suites
V Three's extensive background designing acoustically-sensitive environments was leveraged in the renovation of two research suites located in the Psychology Building, built in 1999. The existing suites – part of the university's Psychological & Brain Sciences Department – lacked visual impact and suffered from sound infiltration from adjacent suites. Working closely with the two Principal Investigators and other University team members, V Three programmed and planned the renovation so that the resulting suites optimally and efficiently support research objectives.
The paramount concern for the speech & language research suite located on the fourth floor was acoustic separation and isolation. The center piece, literally, is a pre-engineered, custom-built, two-room acoustic booth that was specifically designed to fit within the 1,000-square-foot suite while leaving space for the remaining programmatic functions. V Three was able to seamlessly integrate the sound booth with the suite's existing architecture and new layout by completely demolishing all walls and ceilings and reconfiguring spaces to form a "U" around the booth. V Three was responsible for the interior architecture, selection of finishes and fixtures, and coordination of furniture and fabric selections.
For the behavioral studies research suite located on the first floor, the PI's main goal was to maximize use of the suite's existing layout while enhancing access to natural light throughout the occupied spaces. Strategic decisions were made to relocate doors, borrow light frames, and partitions where necessary. The result is a light-filled, comfortable working environment that is already receiving glowing reviews from the PI and research staff.
Ann W. Olin Women's Building
Built in 1927, the Ann W. Olin Women's Building has undergone various renovations to meet evolving programmatic needs. A previous project separated a gymnasium into two adjoining rehearsal studios used by the Performing Arts Department. However, the rehearsal studios were not sufficiently isolated from one another and sound flanking contributed to disruption when both spaces were being used simultaneously.
For this project, V Three worked with a consulting engineer to design a new, acoustically high-performing partition adjacent to the existing 30-foot tall demising wall. Due to the height of the new wall and the need to minimize deflection, special structural engineering considerations were required. In order to reduce structural borne sound transmission, V Three called for the gymnasium wood floor planks and sleepers running continuously under the existing demising partition to be cut and filled with joint sealant. To eliminate sound transmission through the door openings between the adjoining rehearsal studios, V Three specified that the existing door hardware be replaced with a new set of seals and astragals that complete the separation assembly. Early indications are that the project was a success.